Download the artist's CV | Kenny McKendry on Facebook | Fine Art Commissions Ltd, London
After a successful 12-year career as an illustrator based in Brighton, Kenny McKendry returned to his native Co. Antrim, N. Ireland, with a strong desire to paint his indigenous landscape. Influenced by, among others, the Barbizon and American Tonalist movements of the 19th century, Kenny found the perfect inspiration in the rich hues and textures of his homeland.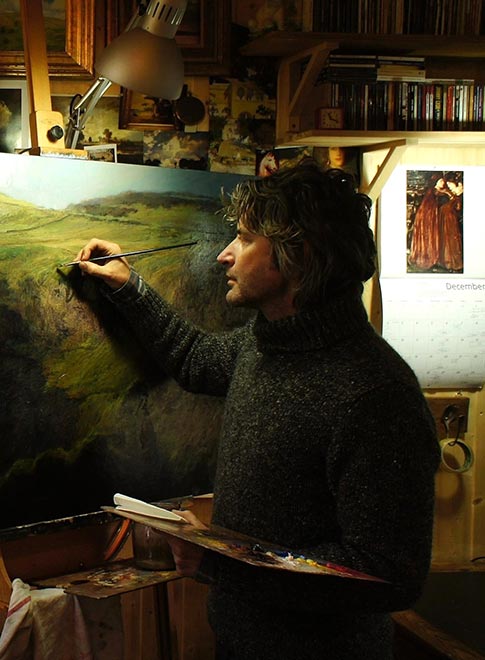 Also quickly becoming recognised for his portraiture, Kenny found a home with the prestigious Gorry Gallery of Dublin, James Gorry having noted that:
"Whilst his paintings are generally modest in scale, they are freely painted with much style and bravura. He prefers to paint on panel rather than canvas where he can exploit the buttery medium of oil paint on a rigid surface displaying every brush stroke and nuance exactly as the paint delivers. He possesses a strong sense of colour, yet his landscapes are lyrical and sensitive. His portraits are informal portrayals of his sitters. A measure of Kenny's modesty is his preference of being described as a painter rather than an artist, a description which 5e says must be earned, and by the few."
Now, working from the small seaside town of his childhood, Whitehead, Kenny continues to paint, his desire simple and heartfelt:
'To capture the beauty and the soul of a passing moment.'
He regards himself as a 'contemporary traditionalist':
"I am not interested in what can be a contradiction of styles, old, new, classic, abstract, romantic, but rather to find expression in the unification of all that is soulful, lasting and of eternal meaning. To seek something beyond the place on which we have our footing. A mark, successfully executed, can transport greater meaning to the board or canvas than any carefully studied line."